Joe McMahon is a children's party entertainer in Wexford
The centre piece of a Kids Party Club party is a great puppet show. Throw in a some magic and a disco and you have a recipe for a party the kids will never forget!
Joe enjoys the company of children and loves his 'job' as a stay at home dad – looking after his three lovely children. The McMahon family live in the Gorey area and Joe is well known in local amateur dramatic circles.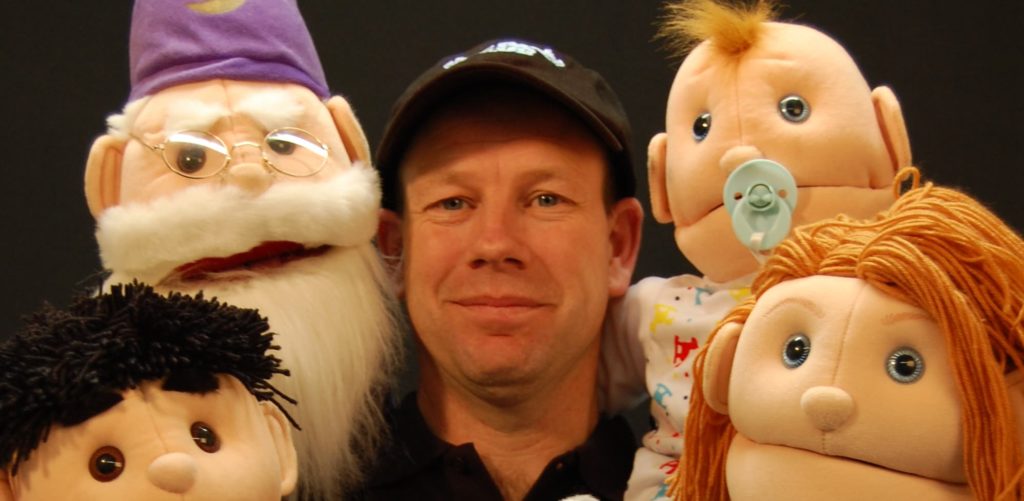 Some nice things people have said about Joe
"Yes would recommend to others v good show and also value for money compared to other entainers which the show only lasts 1 hr. If i was to book again would be looking for discount as i'v already booked twice!! Orla Gahan, Enniscorthy

"Joe got us out of a hole with our party. Without your entertainment it would of being a disaster, have recommended you to others thanks again" Elizabeth Kelly, Bray

"Joe was brilliant with the kids and the show kept them amused the whole time." Sharon & Ruth, St Anthonys Community Workshop, Enniscorthy

This is actually a partial transcript from a voicemail message – it's a pity the sound quality isn't good enough to put up here. "I thought it was absolutely fantastic, the kids had a great time and are still talking about it. I though it was well worth the money and I would have no hesitation in recommedning you guys. Your service was great and very professional. I will be using you again." – Hazel Byrne, Blessington

"Just wanted to say a huge thank you to you. Don't know who enjoyed it more, the kids or the adults! I'll be passing your name on to anyone who is having a party" Tracy, Gorey

"Just wanted to say that we thought you were fantastic yesterday. Thanks for making the day so memorable for us. The kids loved the show and Ryan really enjoyed it as well, even though he is only 1 he was glued to the puppet show. All the adults were commenting on how professional you were. It was the first time there was a puppet show up in the Mount Sion Club and I don't think it will be the only one." Janet, Keith & Ryan, Waterford